Sherwins Area Recreation Plan Trails Technical Committee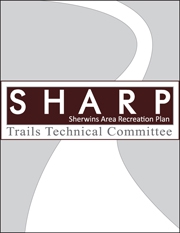 Project Description: In November 2009, the Sherwins Working Group completed a seven-month collaborative process that resulted in the production of the Sherwins Area Recreation Plan (SHARP), an outdoor-recreation management plan for both winter and summer articulations of the Sherwins area directly to the south of the Town of Mammoth Lakes Urban Growth Boundary. SHARP represents thousands of hours of volunteer work by a diverse collection of Mammoth Lakes community members and was presented to the Inyo National Forest (INF) as a conceptual proposal for further consideration, development, and potential implementation.
In April 2010, members of the SWG met with other interested members of the public, the Town of Mammoth Lakes (TOML), MLTPA, and the INF to kick off the SHARP Trails Technical Committee, or SHARP TTC, which is tasked with working collaboratively and within the scope of the original recommendations to take INF-approved elements from SHARP from the conceptual level to a detailed plan ready for environmental analysis. To date, the INF has selected 16 concepts from SHARP Summer that the group may undertake over the course of the summer and early fall. The projects include a multi-use staging area, multiple trail alignments and connectors, and further study of recreation opportunities in the Solitude Canyon and Panorama Dome areas. All members of the public are welcome to becoming involved in the SHARP TTC; to sign up to receive project-related e-mails, please contact us at info@mltpa.org.
SHARP TTC Summer 2011 Update:
During the summer of 2011, the SHARP TTC focused its efforts on two alignments located in the Bluffs area of Mammoth Lakes and developed specific technical alignments for approximately 1.4 miles of trails and facilities. As a testament to the dedication and commitment of the SHARP TTC, a total of 17 individuals attended at least one meeting or field trip between this year's process start date of July 28, 2011, and its end date of November 15, 2011. The SHARP TTC held a total of nine different meetings and field trips over a five-month period with volunteers dedicating approximately 54 total volunteer work hours to this effort. The SHARP TTC is proud to present the culmination of this summer's work as documented in the following key agreements, project maps, refined alignments, and collection of comments for the identified SHARP proposals, and looks forward to continuing its efforts on the remaining SHARP proposals over the coming summer. Many thanks for all of your support. We are all looking forward to the continued efforts of the SHARP TTC and the eventual implementation of trail and recreation amenity projects in the Sherwins region.
Download the SHARP TTC Summer 2011 Final Report here.
Download the materials packet for SHARP ID #S5a here.
Download the materials packet for SHARP ID #S16 here.
---
SHARP TTC DOCUMENT LIBRARY
This page last updated: December 28, 2011.

SHARP TTC_Summer 2010 Final Progress Report, 10/12/06 (45.9 MB)
Trail System Master Plan: Trail and Facility Types (172 KB)
USFS Trail Construction and Maintenance Notebook, 2007 Edition (14 MB)
California State Parks_Accessibility Guidelines 2009 (7.2 MB)