Summer of Stewardship 2010: July 17, Lake George!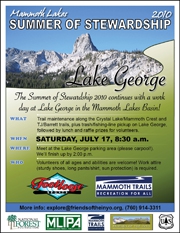 Co-hosted by Footloose Sports and Mammoth Trails!
Project Description: Nearly 20 volunteers from Los Angeles to good ol' Mammoth Lakes took part in the first Summer of Stewardship Trail Days event presented by Friends of the Inyo and MLTPA! The crew assembled under beautiful blue skies on Saturday, July 17, to tackle trail maintenance and day-use area cleanup projects on the TJ/Barrett Lakes Trail, Crystal Lake/Mammoth Crest Trail, and the fisherman's trail around the perimeter of Lake George. Wildneress Catering provided an awesome afternoon lunch at Pokonobe Lodge, where the hard work was rewarded with all kinds of sweet raffle prizes.
Many thanks to the following raffle sponsors:
Footloose Sports (four $25 gift certificates)
In Touch Microspa (one $25 gift certificate)
Juniper Ridge (assorted soaps, incense, and sachets)
Mammoth Brewing Company (two tickets to the Blue Sky Festival and one ticket to Friday night at Bluesapalooza)
Michelle Mather Massage (one $100 gift certificate)
DELIVERABLES:
Overall:
19 volunteers (17 adults and 2 children)
9 staff (FOI, FOI Stewardship Crew, MLTPA)
76 total hours of volunteer stewardship, a $1,584.60 value
Specifics:
7 miles of trail monitored and maintained
6 logs removed from the trail
8 fire rings removed/restored
2 water bars built
1 monster boulder removed
30 yards of trail restored, rerouted, and repaired
90 pounds of trash and fishing line removed
2 bears spotted!
GRAPHICS:
Click here to download the Lake George event flyer.
PHOTOS:
Click here to view photos from the Lake George event.

PRESS:
Click here to download the calendar announcement that ran in the July 17, 2010 issue of The Sheet.
Click here to download the ad that ran in the July 17, 2010 issue of The Sheet.