Home >
Projects >
August 13: Mountain View & Uptown/ Downtown Trails
August 13: Mountain View & Uptown/Downtown Trails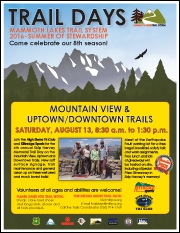 Project Description: Please Join the High Sierra Tri Club and Kittredge Sports for the 4th annual Skip Harvey Memorial Trail Day on the Mountain View, Uptown and Downtown trails. A free breakfast will be provided by Old New York Bagel Company before volunteers begin installing new soft surface signage, performing trail maintenance, and doing general clean up on these well used and much loved trails of the Mammoth Lakes Trail System. Friends of the Inyo staff will provide an introduction to trail maintenance skills. Those interested in being regular members of the Mammoth Lakes Trail System stewardship team should be sure to show up August 13 to get trained up for future SOS projects. A free gourmet lunch – brought to you by Sunrise Rotary and Bleu Handcrafted Foods – will cap off your day of trail work, along with raffle prizes, free giveaways, and the very special $250 gift certificate at Kittredge Sports in honor of former Town Council Member and original founding member of MLTPA Skip Harvey who had a passion for the Uptown/Downtown and Mountain View trails. All ages and abilities are welcome, and we love to see families and clubs. Please arrive dressed for trail work (long pants, sun protection, sturdy close-toed shoes), and don't worry if you can't make it quite at 8:30; we can check you in and send you off to a task in progress just about anytime before 10:30 a.m. Trail Days are made possible by the Town of Mammoth Lakes, the Inyo National Forest, Mammoth Lakes Recreation, and Mammoth's own Measure R! And thanks to KMMT Radio for providing some priceless airtime to let everybody in on the fun!
When: Saturday, August 13, 8:30 a.m. to 1:30 p.m.
Where: Meet at the Earthquake Dome parking lot for a free bagel breakfast, safety talk and work assignments.
What: Trail Days on Mountian View and Uptown/Downtown Trails including installing new soft surface signage, trail maintenance, and general clean up on and around the trails.
Who: Volunteers of all ages and abilities are welcome! Please dress for trail work: sturdy, close-toed shoes, hat, and long pants. Gloves and tools provided.
EVENT STATISTICS:
Total Number of Volunteers: 47 (contributing 4 hrs each)
Signs Installed: 25
Berms Watered: 4
Picnic Benches Painted: 5
BBQs Cleaned Out: 5
Trash Picked up: Approx. 300lbs
PHOTOS:
Click here to access the event Photo Gallery!
GRAPHICS: