ABOUT THE WINTER RECREATION SUMMIT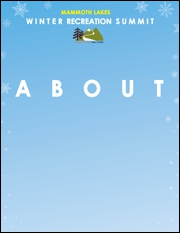 The Town of Mammoth Lakes and its stakeholders in the Mammoth Lakes Trail System, including Mammoth Lakes Recreation, the United States Forest Service, and Mammoth Mountain Ski Area, are seeking the public's experience and input as they work together to further implement winter recreation and mobility opportunities as identified in the Town's Trail System Master Plan.
To support this implementation effort, the Mammoth Lakes Winter Recreation Summit has been scheduled for Friday and Saturday March 18-19, 2016 in Mammoth Lakes. The Summit will feature on-site outdoor demonstrations, land management informational meetings, and specifically developed presentations designed to elicit public input on a variety of winter recreation issues. The Summit will be headquartered at the Sierra Event Center in Mammoth Lakes, with various on-site outdoor demonstrations scheduled as well. Additionally, to represent the region's new high speed internet infrastructure, free High Speed Broadband services will be available to attendees at the Sierra Event Center for the duration of the Summit courtesy of Suddenlink Communications.
The Summit will kickoff with a keynote address by Luis Benitez, mountaineer and newly appointed director of the State of Colorado's Outdoor Recreation Industry Office, who will be speaking to the Eastern Sierra's unique place in the growing outdoor recreation movement. A widely respected mountain guide, Benitez summited Mt. Everest for his first time in 2001 while guiding blind mountaineer Erik Weihenmayer and has scaled some of the highest points on each continent with a total of 32 summit bids.
For detailed event and schedule information, including online resources and recommended activities and research to help enhance participation, please visit this web page for project details.
All winter recreation enthusiasts are welcome and everybody is encouraged to attend and participate!