A CHANGING CLIMATE AND OPPORTUNITIES FOR THE EASTERN SIERRA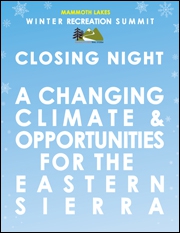 CLOSING NIGHT!
Panel Discussion Keynote Finale - A Changing Climate And Opportunities For The Eastern Sierra
PRESENTED BY: Mammoth Lakes Recreation
VIDEO DOCUMENTATION: Watch here
YOUR INPUT: Click here to email us your thoughts!
Four and a half years of drought have devastated seasonal snowpacks in the Sierra Nevada, diminishing California's water supply and encouraging catastrophic wildfires. These same wildfires are assaulting the health of our forests while simultaneously compounding the stresses on their carbon sequestration function and impacting the viability of our region's outdoor recreation economy.
The Closing Session of the Mammoth Lakes Winter Recreation Summit will feature a discussion among four panelists about how we can best respond to the changing climate, and take on the efforts necessary to mitigate impacts, advocate for policy changes, adapt to conditions, and collaborate and work together to ensure our continued economic growth and sustainability through our outdoor recreation products and experiences.
Chris Steinkamp, Executive Director for Protect Our Winters (POW), will share his organization's story about starting a social movement on climate change designed to activate a passionate community and create the political will for meaningful action by state and federal policymakers. POW is the leading climate advocacy group for the snowsports industry, and Chris will share how mountain communities and resort destinations can engage with this effort.
Tracy Lamb is the Director of the Olympic Training Center in Chula Vista, but it's his experience as a leader in the International Biathlon Union that he'll share as part of the panel. Tracy has travelled the globe on behalf of the sport and has seen what innovative steps international biathlon destinations have taken to adapt to changing snow levels and climate conditions. He'll discuss how the techniques found in the European countries might be used in Mammoth Lakes.
David Page is the newest Advocacy Manager for the Winter Wildlands Alliance and a freelance journalist based in Mammoth Lakes. David will discuss the value of collaboration among diverse interests and how such collaboration will lead to improved planning and implementation efforts related to winter outdoor recreation.