TRY IT! WINTER FAT BIKE DEMOS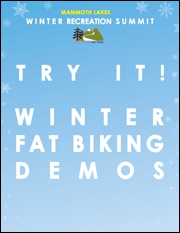 PRESENTED BY: SEMBA and Eastside Wide
VENUE: Sierra Star Golf Course
In the last 5 years, Fat Biking has exploded in popularity and become one of the fastest growing recreational activities in the nation. Fat Bikes, with tires 4" and wider, were originally designed for riding snow and sand because of their incredible traction and stability. But the more they were ridden, the more people came to realize how truly versatile Fat Bikes are. Fat Bike races and events are now held across the United States and around the world, with some drawing thousands of participants, and nearly every major mountain bike manufacturer has introduced a Fat Bike into their line up. Fat Biking is truly a sport for everyone, and the ability to ride a bike on snow in the winter has it's own unique and special appeal. One cannot overlook the huge fun factor these bikes provide - something about that fat tire makes it feel like you're riding a beach cruiser, and the newness and delight makes you feel like a kid again! Eastside Wide - in partnership with SEMBA (Sierra Eastside Mountain Bike Association) - will provide free bikes, and Sierra Star Golf Course will provide one of Mammoth's most scenic and breathtaking settings for you to try a Fat Bike on groomed snow. Early morning is the best time to ride, as the trail grooming will be fresh and firm. Come check out the fun, check out the scenery, and find out what Fat Biking in the snow is all about!

Take it from Outside Magazine: "Blimp-tired bicycles were developed for one of the most grueling endurance races in the world. But then everyone else realized how much fun they were."

SEMBA was created to enhance, preserve, and promote existing mountain biking trails – while creating new opportunities, access, and experiences for all mountain bikers in the Eastern Sierra.