Eastern Sierra Recreation Collaborative - 2014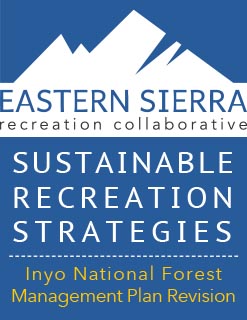 Welcome!
As a partner in the Eastern Sierra Recreation Collaborative (ESRC), MLTPA is proud to provide this web page - sparing the ESRC the expense of building a separate website - and to serve as the non-profit sponsor for the ESRC.
What You Need to Know
In conjunction with the Inyo National Forest Management Plan Revision process, the ESRC has invited recreation enthusiasts and regional stakeholders to participate in a series of public meetings. ESRC meetings are open public forums intended to provide diverse recreationists and stakeholders throughout the Eastern Sierra and beyond with the opportunity to collaboratively develop a regional voice representing the area's recreation economy to help inform local, state and federal planning and policy efforts. ESRC meetings to date have focused on identifying key sustainable recreation values and strategies in support of the Inyo National Forest as it makes the first programmatic revision to its Forest Management Plan since 1988.
Deliverables and Critical Documents - Last Updated January 25, 2015
Featured below are ESRC Deliverables and the "critical documents" from both the ESRC and the USFS that have been created or utilized by the ESRC. Scroll further down to download and review other "critical documents" and links to photo galleries of the individual ESRC public meetings.