SHARP Environmental Review: Phase III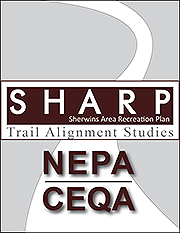 The Mammoth Ranger District of the Inyo National Forest, in partnership with the Town of Mammoth Lakes, proposes to implement trail improvements in the Sherwins area to provide diverse trail-based recreational opportunities near the Town of Mammoth Lakes while protecting natural and cultural resources. The proposed improvements include repair or closure of a number of user-created trails as well as construction of new non-motorized trails. Click here for more information on the complete Sherwins Area Recreation Plan (SHARP), and for more information on the Sherwins Working Group, the collaborative effort that produced SHARP.
An Environmental Assessment under NEPA and a Mitigated Negative Declaration under CEQA (California Environmental Quality Act) are being prepared for this project. The public scoping for NEPA (National Environmental Policy Act) is likely to occur after the summer season. Proposed trail alignment concepts for the SHARP Phase III projects are listed below.