MLTS Interpretive Program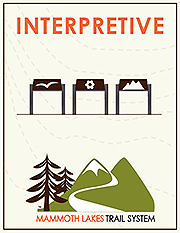 Project Description: In the spring and early summer of 2011, MLTPA contracted with two local interpretive specialists, David Scott and Christie Osborne, to prepare and deliver a draft report and presentation on the opportunities available for interpretive programming on the Mammoth Lakes Trail System (MLTS). David Scott's report "Interpretive Services Planning: Opportunities for Interpretations Along the MLTS" is available for download below. On January 23, 2013, the Town Council voted to include the "Interpretive Services Planning Document" as an appendix to the Mammoth Lakes Trail System Master Plan as originally adopted by Town Council on October 11, 2011. A PowerPoint presentation, as prepared and narrated by Christie Osborne, details how current technology can enhance and deliver interpretive information to the MLTS. You can watch her presentation by clicking on the link below. These deliverables are meant to guide and inform future efforts to incorporate educational materials related to local geology, arts and culture, biology, and other topics into the growing MLTS signage and wayfinding system.
Project Update: Coming Soon!