100 MLTPA Founders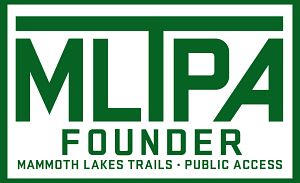 There will be 100 Founders of MLTPA -- that's it, and that's all! These are the 100 individuals, families, businesses, and organizations that have made a minimum investment of $1,000. Several of our MLTPA Founders have contributed at this level repeatedly, as they believe in the ongoing Mission, Vision, and Promise of MLTPA. On behalf of yourself, your family, your business, or your organization, become one of our 100 Founders. You will be making 99 of the greatest friends you will ever want to have. As of February 2014, there are 43 Founders of MLTPA-just over half of these spots remain!
Adams Cowan Foundation
Will Aldrich
Sharon, Gordon, and Jennifer Alper
Base Camp Café
In honor of Louis & Muffie Cabot
MLTPA Foundation Board 2007
Jo Bacon
Louis Cabot
Mabel H. Cabot
Malcolm and Sharon Clark
Coldwell Banker Real Estate

In memory of Henry Coronado
Jay and Noelle Deinken
William Drake
Footloose Sports
Rusty and Bonnie Gregory
Gregory, Pieper & Graham, LLP
Mammoth Emergency Physicians
Mammoth Mountaineering Supply/Alpine Approach
Mary A. Crocker Trust
Neil McCarroll
Dave and Roma McCoy Family Foundation
Paul and Katherine Page
Drea and Jeff Perry
Christian and Julie Pondella
Mary K. Prentice
Red Green Blue Fund of the Liberty Hill Foundation
James S. Reed
Rotary Club of Mammoth Lakes, Sunrise
Jim and Elaine Smith
George Stephanopoulos and Ali Wentworth Stephanopoulos
Will, Becca, and Kylie Stroud
Elisabeth Sturges
Erick, Wendy, and Tang Sugimura
Bill and Sherri Taylor
Jim and Elizabeth Tenney
Town of Mammoth Lakes Tourism and Recreation Commission 2007
Town of Mammoth Lakes Tourism and Recreation Commission 2009
Vereuck Family Trust
Virginia Wellington Cabot Foundation
Wave Rave Snowboard Shop
Eric Bartlett Wentworth
John Wentworth
MLTPA Foundation is a non-profit 501(c)(3) organization. Your gift is tax-deductible to the fullest extent of the law. We do not sell, rent, or exchange our supporters' names.