MLTPA Foundation Staff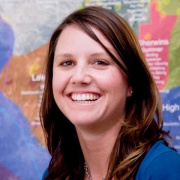 Linsey Farrell, Graphics Coordinator
Linsey recently moved to Mammoth Lakes from Santa Barbara, where she managed her family's ski shop. As Graphics Coordinator for MLTPA, she develops marketing collateral and other image-based materials. Linsey has done design for numerous companies, including Patagonia and Mountain Air Sports. Linsey's been visiting Mammoth as a vacationer for as long as she can remember. Now a permanent resident, she's quickly becoming involved in the community and is always up for adventure, whether on the mountain or in front of her Mac. While taking a break from "geek land," you can find her skiing in the park, on the hill, or making a mess of paint on a canvas, or working part time for MLTPA.
Contact: .(JavaScript must be enabled to view this email address)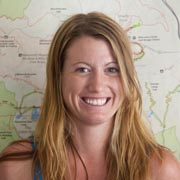 Nicole Montano, WebMaster
Nicole recently moved to Mammoth Lakes from Long Beach, but her roots lie back East. She has been involved with web/marketing/graphics work for about 15 years, working with several small businesses across the country, but also in the Fortune 500 environment at Aetna Health Insurance. As a Mammoth Lakes telecommuter, she maintains a full time job with a company in East Hartford, CT called finalsite and they have designed a piece of CMS software that they market to independent schools and educational organizations, with over 400 clients worldwide. Nicole is finalsite's Marketing Manager and has been for 5+ years, responsible for the visual brand of the company, which includes the website design, and all of the marketing materials. Working for a web company has kept her on top of all the latest and greatest web technologies - things change fast. She's a big fan of all adobe products....actually - photoshop has been her best friend on a daily basis for the past 15 years. Nicole works part time for MLTPA.
Contact: .(JavaScript must be enabled to view this email address)
Colin Farrell, Data Systems Manager
Colin grew up alpine racing the icy slopes of New England. After graduating from Colorado College in 1998 with a B.A. in international political economy, he opted to travel in lieu of starting medical school. Colin taught multi-level English in Quito, Ecuador, for a year before he was lured back to the States by a passion for skiing. After two winters of ski instructing at Vail and Telluride, Colin made Mammoth his permanent home in 2003 and started the multimedia business On Point Productions, which has produced multiple feature-length ski and snowboard films and numerous promotional Web and television spots for local and statewide clients (including MLTPA). At MLTPA Colin manages the Foundation's data systems, making sure their information and archives are always organized, accessible, and secure. Colin likes to ski -- a lot. He'll often travel to Argentina or Chile in search of the endless winter. The best way to pass the time between winters? On a mountain bike, of course - and working part time for MLTPA.
Contact: .(JavaScript must be enabled to view this email address)