USFS: OVER SNOW VEHICLES AND SUB PART C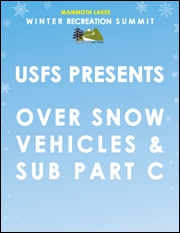 PRESENTED BY: The Inyo National Forest
POWERPOINT PRESENTATION: Download here
VIDEO DOCUMENTATION: Watch here
PROJECT PROPOSALS: Coming soon!
From the Inyo National Forest: "All National Forests are required to formalize their OSV plan through environmental analysis as part of the 2005 Travel Management Rule (Subpart C). Prior to scoping, the Inyo National Forest is asking for input regarding where snowmobiles are currently used, where they should be used, as well as how to best integrate snowmobiling with the suite of winter recreational opportunities available on the forest. We are looking for public input to help us develop our proposed action. This project will designate motorized over-snow vehicle (OSV/snowmobile) use on National Forest System roads and trails and areas on National Forest System lands as allowed, restricted, or prohibited. It will also identify trails for grooming for snowmobile use. For more information about the project, go to the Project Website at http://www.fs.usda.gov/project/?project=48393. We expect to have a proposed action out in April, but would like your thoughts about snowmobile use at this time, to help inform our initial proposed action. If you have some ideas about snowmobile use, please let us know! This is not a formal comment period, so your input at this point does not give you standing for objections. There will be future opportunities during scoping and comment periods for more formal comment."
Prior to their presentation at the Winter Recreation Summit, the Inyo National Forest will be hosting a "Over Snow Vehicle Workshop" on Tuesday, February 23, from 6:00 p.m. - 8:00 p.m. at the Town of Mammoth Lakes Council Chambers (Suite Z), Minaret Village Shopping Center, 437 Old Mammoth Road, Mammoth Lakes, CA 93546. Suite Z is on the second floor, upstairs from Starbucks. For more information on the Inyo National Forest's OSV and Sub Part C effort, please email Erin Noesser and the Inyo National Forest at elnoesser@fs.fed.us.

Visit the Inyo NF Project Page for their Over-Snow Vehicle (OSVs or snowmobiles) route designation effort as part of the 2005 Travel Management Rule (Subpart C).

Visit the Inyo National Forest collaborative mapping site to help "... determine which areas of the Forest will be open to over-snow vehicle (OSV, or snowmobile) use, and determine which trails will be groomed for snowmobile use."

Visit the Federal Register to read and review the official rule for "Use By Over-Snow Vehicles (Travel Management Rule)"
Reference Items
Listed below are documents and links that relate to the regulation, use, and development of facilities for Over Snow Vehicles (OSV) in a variety of contexts and locations. Please keep in mind that this is not a definitive archive, and that the documents and web resources all have a relationship to OSV use in the Mammoth Lakes region.

Download and review Inyo National Forest orders restricting the use of OSVs (12/10/1992), bicycle travel (9/25/1992), and cross country ski trails (3/5/1993). Includes exhibits.

On March 26, 2014, Mammoth Lakes District Ranger Jon Regelbrugge made the decision to authorize the design and construction of an OSV/OHV staging area along Sawmill Cut-Off Road in the Shady Rest Area. The development consists of two components, I) the staging area development, and 2) the widening of Sawmill Cut-Off Road."

On February 11, 2013, the Mammoth Ranger District of the Inyo National Forest initiated an environmental analysis process under NEPA for the redevelopment of two user-created Off-Highway Vehicle/Over Snow Vehicle (OHV/OSV) staging areas.

Visit the Snowmobiling page on the Mammoth Lakes Trail System Website and review a complete inventory of all the groomed "Orange Diamond" trails ("A Trail" - "L Trail") and check out the featured experiences for this season.

Download and review the current Winter Recreation Map produced through the partnership of the USFS and the Town of Mammoth Lakes.

Download and review this 25 year old hand-produced map that documents snowmobile use areas. The source of this map is unclear, and offers some interesting historic insights - who among us remembers the "Mammoth Lakes Basin Boblsed Areas?"