Eastern Sierra Recreation Collaborative - 2016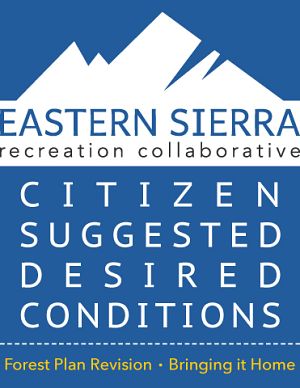 Welcome!
As a partner in the Eastern Sierra Recreation Collaborative (ESRC), MLTPA is proud to provide this web page - sparing the ESRC the expense of building a separate website - and to serve as the non-profit sponsor for the ESRC. For details on ESRC activities in 2014/15 that set the stage for the 2016 efforts, please click here.
What You Need to Know
The vibrant economies of Eastern Sierra Gateway Communities are dependent upon visitation driven by world-class outdoor recreation experiences and supported by the stewardship of public lands. Funded by a generous grant from the National Forest Foundation, the ESRC produced a series of public meetings to gather ideas during the summer months of 2016 at Eastern Sierra Gateway Community meetings in Bishop, Lone Pine and June Lake. An ultimate goal is to develop a framework for sustainable recreation programs in the Eastern Sierra that are implementable and that will address stewardship as well as outdoor recreation opportunities. At a final wrap up meeting on August 15th, 2016, a synthesis of the ideas heard at these public meetings was presented for public review, and a detailed collection of "desired conditions" was produced for use by citizens, stakeholders, and public agencies as part of the comment process for the Draft Revised Land Management Plan for the Inyo National Forest. The final document - "Eastern Sierra Recreation Collaborative: Citizen Suggested Desired Conditions" - is available for download here or further down on this page. All comments on the Draft Revised Land Management Plan for the Inyo National Forest are due to the USFS by August 25th.
Click here to access the draft alternatives of the Inyo National Forest's revised land management plan which are ready for your review and comments.
If your feel ready to comment on the draft plan, click here to access the USFS online comment page.
ESRC's public meetings during the summer of 2016 took place in the following gateway communities and have provided participants an opportunity to identify specific issues in the draft revised management plan that are unique to their community's sustainable recreation interests related to the Inyo National Forest:
June 27 - Kick Off Meeting - Cerro Coso Community College, Bishop, CA
July 11 – Northern Gateway Communities - June Lake (June Lake Community Center)
July 18 – Central Gateway Communities - Bishop (Tallman Pavillion, Tri-County Fairgrounds)
July 25 – Southern Gateway Communities - Lone Pine (Statham Hall)
August 15 - Wrap Up Meeting - Cerro Coso Community College, Bishop, CA
Posted below are the presentations that have been shared at the ESRC's public meetings so far this summer along with important background and reference documents from the ESRC and a variety of public agencies and other resources.
Updated: August 21, 2016
Deliverables and Critical Documents
Featured below are ESRC Deliverables and the "critical documents" from the ESRC, the USFS, and other important contributors that have been created or utilized by the ESRC. Scroll down to download and review.
About Eastern Sierra Recreation Collaborative (ESRC)
The ESRC is a grass roots effort launched in 2014 by Eastern Sierra recreation enthusiasts committed to economic diversification and to policies that support sustainable recreation management. Its purpose is to enhance regional recreation opportunities through focused engagement and collaboration with community stakeholders and the gateway communities of the Eastern Sierra.
For More Information please email info@eastsierrarec.org