Welcome to the Climate Adaptation Library
This page provides quick and easy links to multiple relevant and published climate resources that were used in developing "A Changing Climate | Vulnerability in California's Eastern Sierra". For the work of the SRTI, the Placeworks and MLTPA team put together a discreet Google sheet of over 170 additional documents and data resources that were used for analysis and development of the final project deliverables, and that Google sheet can be accessed here. Please note these are external links to pages that we do not control, and please excuse any links to pages that are no longer working.
Last Updated: January 31, 2022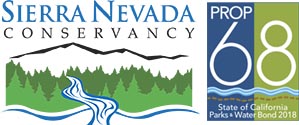 Funding for this project has been provided by the Sierra Nevada Conservancy, an agency of the State of California, under the California Drought, Water, Parks, Climate, Coastal Protection, and Outdoor Access For All Act of 2018 (Proposition 68) and in support of the Sierra Nevada Watershed Improvement Program.