Home >
Measure R Campaign
Measure R Campaign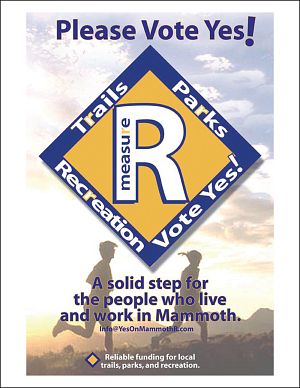 Project Description: The successful "Yes on Mammoth Measure R" campaign was run on behalf of Measure R, a special 0.5% local sales tax that was approved by the voters of Mammoth Lakes on June 3, 2008 with 72% of the vote. Measure R funds can be used only for the specific benefit of recreation, trails, and parks in Mammoth Lakes. Measure R funds are not part of the Town's General Fund, and cannot be used to supplant funding for existing projects.
Measure R funds can be used for implementation of the updated Town of Mammoth Lakes Trail System Master Plan, as well as the updated Parks and Recreation Master Plan. MLTPA was engaged with the development of Measure R from the beginning, and MLTPA board members committed significant time and financial resources to the Measure R campaign. The MLTPA Foundation committed critical staff time and resources to the Measure R effort as well.
The Yes on Mammoth Measure R Committee was the dedicated group of citizens who did the heavy lifting to get Measure R passed. The Committee members were Jay Deinken, Lisa Isaacs, Jason Marsh, Peter Maw, Lindsay Blake Smith, Joyce Turner, Eric Wasserman, and John Wentworth. The Committee received significant support from MLTPA and the Mammoth Lakes Chamber of Commerce -- shout-outs all around!"
DELIVERABLES
The Yes on Mammoth Measure R Committee produced two pieces of literature to help explain Measure R to the citizens of Mammoth Lakes:
Last updated October 3, 2023