Sustainable Recreation and Tourism Initiative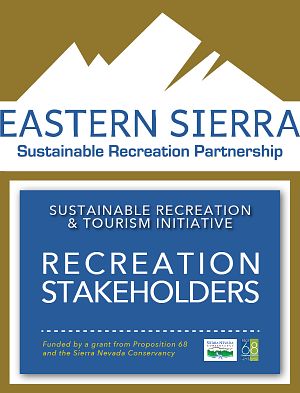 Welcome to Recreation Stakeholders
Project Description: "Regional Recreation Stakeholder Engagement" is the official name for Track 1 of the "Sustainable Recreation and Tourism Initiative". While originally intended as in-person meetings to have taken place throughout the Eastern Sierra, efforts migrated to virtually facilitated efforts starting in March of 2020 in light of the COVID-19 pandemic.
The Process: The public, as "recreation stakeholders", shared their challenges and identified emerging trends through their desired project ideas submitted via a dedicated "Community Projects" webpage and submission form. 183 project ideas were submitted by recreation stakeholders, which were then scored by the public at virtual meetings for their stewardship value, benefits for access and equity, and benefits for local communities. The outputs from these virtual public efforts are shared below. Through these efforts, public support can be discerned for future programs and on-the-ground infrastructure investments as part of the final portfolio of project recommendations. For more information about the final "SRTI Portfolio of Projects" and how those projects were selected, head on over to the Projects and Funding Page. MLTPA is pleased to provide this web page in support of the Eastern Sierra Sustainable Recreation Partnership (ESSRP) and the "Sustainable Recreation and Tourism Initiative."
COVID-19: In person meetings were not safe during the pandemic so the MLTPA team established the virtual and digital systems necessary to complete the identified tasks for "Regional Recreation Stakeholder Engagement". The pandemic profoundly affected gateway communities and counties in the Eastern Sierra, all recreation activities, and our visitor audience. Despite challenges, the Initiative went digital and virtual, with every expectation that project deliverables would be completed on time consistent with all contractual obligations. Reliable virtual solutions were made possible by the Eastern Sierra's Digital 395 which provided unprecedented open-access broadband network capacity.
Recreation Stakeholder Project Ideas
Recreation Stakeholder Meetings
SRTI Virtual Wrap Up - Dec. 8, 2021
Virtual Project Review Meeting #3 - Dec. 10, 2020
Virtual Project Review Meeting #2 - Nov. 19, 2020
Virtual Project Review Meeting #1 - Sept. 17, 2020
Gateway Community Workshop #1 - Southern Inyo County Jan. 16, 2020
Kickoff Meeting Part 2 - Tri-County Fairgrounds, Bishop, CA - Oct. 17, 2019
Kickoff Meeting Part 1 - Tri-County Fairgrounds, Bishop, CA - Sept. 26, 2019
Last Updated: January 20, 2022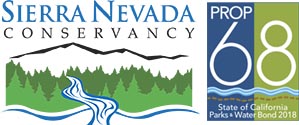 Funding for this project has been provided by the Sierra Nevada Conservancy, an agency of the State of California, under the California Drought, Water, Parks, Climate, Coastal Protection, and Outdoor Access For All Act of 2018 (Proposition 68) and in support of the Sierra Nevada Watershed Improvement Program.