Sherwins Egress - Project Archive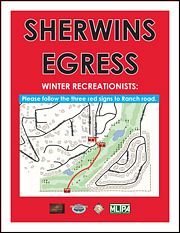 Project Description: In 2005-2006, conflicts between backcountry skiers/snowboarders and private-property interests threatened to close the safest, most convenient winter egress route from the base of the Sherwin Range to the town of Mammoth Lakes. Today, thanks to partnered efforts between The Chadmar Group (developer of Snowcreek VIII), the Town of Mammoth Lakes and MLTPA, an egress plan from this well-loved frontcountry amenity has been legally secured and is marked with directional signage. The route is the result of a two-year decision-making process and is a component of the adopted Snowcreek VIII Master Development Plan.
Typically, the egress proceeds across Snowcreek Golf Course and terminates on the north side of the Ranch Road gate via a public easement around the gate's west side. (Please download the accompanying sign graphic below for an example of route detail. Note that the precise routing may change from season to season.) This is an important legal egress route to town from the Sherwins between Mill City to the west and the Borrow Pit to the east; travel across any other portion of the privately held Snowcreek Golf Course is prohibited and users may be cited for trespassing.
Project Update: Each winter, egress across the Snowcreek property -- in effect once there is adequate snow cover across the golf course -- is marked with distinctive red signage. This is a primary legal egress route from the western aspect of the Sherwins directly to Old Mammoth Road. Skiers and riders exiting the east side of the Sherwins may prefer to get back to town via Sherwin Creek Road. MLTPA managed the Sherwins Egress program for the winter seasons of 2009-10, 2010-11, and 2011-12 using the "Sherwins Egress Handbook (2012)", developed by MLTPA using Measure R funds and which can be dowloaded below. As of Dec. 2013, an agreement has not yet been reached regarding the program for public outreach and signage outside of Snowcreek's property for 2013-2014; please subscribe to our e-mail list to receive notifications about Sherwins egress for the current season.
DELIVERABLES
"The Sherwins Egress Handbook (2012)" (2.3 MB)
Press Release,_12/17/11 (98 KB)
Press Release, 03/16/11 (106 KB)
Sign Detail from 2011 (2.2 MB)
PHOTOS
Click here to check out a photo gallery of the Sherwins Egress signage and route.
PRESS
Recreation This Week, 12/21/11 (139 KB)
Town E-News,_12/22/11 (111 KB)
Mammoth Times_editorial,_03/04/11 (1.6 MB)
The Sheet_editorial,_03/05/11 (209 KB)
SierraWave.net editorial,_03/01/11 (8.5 MB)
Town of Mammoth Lakes "E-News,"_03/04/11 (61 KB)
Town of Mammoth Lakes "Recreation This Week,"_03/02/11 (135 KB)
This page last updated: January 9, 2014