Welcome to "Visitor Audience"
Project Description: "Connection to the Eastern Sierra Visitor Audience" is the official name of Track 3 of the "Sustainable Recreation and Tourism Initiative". Invited participants will convene for 8 quarterly meetings to assist with the creation of a 21st-century regional recreation identity for the Eastern Sierra. The overarching goal will be the development of the tools necessary to more efficiently and effectively communicate with the region's outdoor recreation audience. MLTPA is pleased to provide this web page in support of the Eastern Sierra Sustainable Recreation Partnership (ESSRP) and the "Sustainable Recreation and Tourism Initiative."
COVID-19 Update:
In person meetings are no longer safe, as the pandemic has profoundly effected the gateway communities and counties of the Eastern Sierra, as well as recreation activities and our visitor audience. The Visitor Connection Working Group has successfully transitioned to a virtual environment with the digital tools necessary to produce the necessary tasks for completion of the "Visitor Audience" track. Please check back with this page for complete and timely information and project updates. Many thanks to the
Eastern Sierra's unprecedented open-access broadband network capacity via Digital 395.
Participants in the "Visitor Connection Working Group"
Meeting #6 "Communication Channels": Thursday, October 15, 2020
Meeting #5 "Visualizing the Eastern Sierra": Thursday, August 20, 2020
Meeting #4 "Messages and Stories" - June 18, 2020
Meeting #3 "Next Steps in Light of COVID-19" - April 16, 2020
Meeting #2 "Understanding" - February 20, 2020
Meeting #1 "Kick Off" - December 11, 2019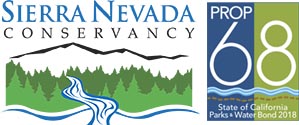 Funding for this project has been provided by the Sierra Nevada Conservancy, an agency of the State of California, under the California Drought, Water, Parks, Climate, Coastal Protection, and Outdoor Access For All Act of 2018 (Proposition 68) and in support of the Sierra Nevada Watershed Improvement Program.