Welcome to Visitor Audience
Project Description: "Connection to the Eastern Sierra Visitor Audience" is the official name of Track 3 of the "Sustainable Recreation and Tourism Initiative". The Visitor Connection Working Group (VCWG) was comprised of 28 invited representatives from regional organizations with a vast and diverse range of expertise engaging with the visitor audience. The Working Group was convened for 8 facilitated meetings over 14 months to establish the foundation for a 21st-century regional recreation identity for the Eastern Sierra focused on stewardship and sustainability. These meetings culminated in the "Visitor Connection Package" – which identifies a program to more efficiently and effectively communicate with the region's multimillion-member outdoor recreation audience along with the establishment of a "voice" that speaks for the Eastern Sierra as a region. The Strategic Marketing Group, which facilitated the VCWG meetings, has also produced a companion document to the "Visitor Connection Package" called the "Visitor Connection Strategy". MLTPA is pleased to provide this webpage in support of the Eastern Sierra Sustainable Recreation Partnership (ESSRP) and the "Sustainable Recreation and Tourism Initiative."
COVID-19: In person meetings were not safe during the pandemic so the MLTPA team established the virtual and digital systems necessary to complete the identified tasks for the "Visitor Audience" track. The pandemic profoundly affected gateway communities and counties in the Eastern Sierra, all recreation activities, and our visitor audience. Despite challenges, the Initiative went digital and virtual, with every expectation that project deliverables would be completed on time consistent with all contractual obligations. Reliable virtual solutions were made possible by the Eastern Sierra's Digital 395 which provided unprecedented open-access broadband network capacity.
Meeting #8 "Final Meeting" - Feb. 18, 2021
Meeting #7 "Visitor Connection Package Review" - Dec. 3, 2020
Meeting #6 "Communication Channels" - Oct. 15, 2020
Meeting #5 "Visualizing the Eastern Sierra" - Aug. 20, 2020
Meeting #4 "Messages and Stories" - Jun. 18, 2020
Meeting #3 "Next Steps in Light of COVID-19" - Apr. 16, 2020
Meeting #2 "Understanding" - Feb. 20, 2020
Meeting #1 "Kick Off" - Dec. 11, 2019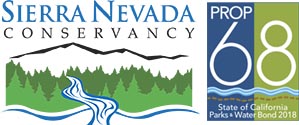 Funding for this project has been provided by the Sierra Nevada Conservancy, an agency of the State of California, under the California Drought, Water, Parks, Climate, Coastal Protection, and Outdoor Access For All Act of 2018 (Proposition 68) and in support of the Sierra Nevada Watershed Improvement Program.