Inyo National Forest: Scenic Loop OSV/OHV Staging Areas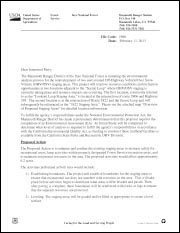 Project Description: On February 11, 2013, the Mammoth Ranger District of the Inyo National Forest initiated an environmental analysis process under NEPA for the redevelopment of two user-created Off-Highway Vehicle/Over Snow Vehicle (OHV/OSV) staging areas. The purpose of the project was to improve the two off highway vehicle (OHV) and over snow vehicle (OSV) staging areas just east of Highway 395, lookout loop; and at 3S22, just off the Scenic Loop. For a variety of reasons, the project was cancelled and the NEPA analysis was not completed
The original scoping letter from the Mammoth Ranger District provides a summary of the proposed project: "This project will improve resource conditions and recreation opportunities at two locations adjacent to the "Scenic Loop" where OHV/OSV staging is currently taking place and resource impacts are occurring. The first location, commonly referred to as the "Lookout Loop Staging Area," is located at the intersection of route 3S06 and Highway 395. The second location is at the intersection of Route 3S22 and the Scenic Loop and will subsequently be referenced as the "3S22 Staging Area. To fulfill the agency's responsibilities under the National Environmental Protection Act, the Mammoth Ranger District has made a preliminary determination that this proposal requires the completion of an Environmental Assessment (EA). An Initial Study will be completed to determine what level of analysis is required to fulfill the agency's responsibilities in accordance with the California Environmental Quality Act, as funding to construct these trailhead facilities is available from the California State Parks and Recreation, OHV Division."
Several documents and a letter of comment from the public were prepared for the project. Please have a look at the documents and links below.
Visit the USFS project web page for the Scenic Loop OSV/OHV Staging Areas
Review the February 11, 2013 scoping letter from Mammoth Lakes District Ranger Jon Regelbrugge.
Review a letter of comment signed by local organizations and individuals on March 8, 2013 in response to the District Ranger's scoping letter.
Download and review the proposal map for Site 1
Download and review the proposal map for Site 2
Download and review the map that demonstrated the geographic relationship between Site 1 and Site 2
This page last updated: February 20, 2016