Sherwin Area Trails Special Study (SATSS)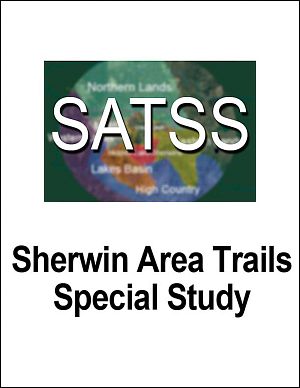 Project Description: In the fall of 2008, and in partnership with the U.S. Forest Service (USFS) and MLTPA, the Town of Mammoth Lakes (TOML) launched an important new project: the Sherwin Area Trails Special Study, or SATSS. SATSS identifies options for trails within its defined study area, options for recreational uses and/or activities, and opportunities for public access between the study area and the Town's existing trail system. This study area is defined as the general area south of the Urban Growth Boundary (UGB) between the Hayden Cabin site and Sherwin Creek Road on the east and Old Mammoth Road on the west, up to Lake Mary Road.

Alta Planning + Design, the lead consultant on the Trail System Master Plan (TSMP) update, conducted fieldwork and analysis. Options and opportunities are considered for winter and summer uses, both motorized and non-motorized. SATSS will be combined with the efforts of the Sherwins Working Group (SWG), and the ultimate deliverables of these efforts will be included as an attachment to the TSMP. For more information on SATSS, please contact TOML Principal Planner Steve Speidel at sspeidel@ci.mammoth-lakes.ca.us.
Download Options for SATSS
Complete PDF for electronic viewing: This download is the complete SATSS document, including the narrative and all maps. It is optimized for Web and computer viewing.


SATSS Complete Report: 02/06/09

Downloads to Print Hard Copies: This download should be used if you want to print out a hard copy of SATSS. NOTE: THIS FILE IS FORMATTED FOR 8.5 X 11 INCH PRINTING, BUT THE SATSS MAPS ARE 11 X 17 INCHES AND WILL NEED TO BE DOWNLOADED AND PRINTED SEPARATELY. Contact MLTPA if you need help arranging to get copies of the 11 x 17 inch maps printed.

SATSS Text Only: 02/06/09 (for 8.5 x 11 inch printing)

Maps for Hard Copies: Here is a complete set of the SATSS maps that will need to be printed at 11 x 17 inches and inserted into a hard copy of the plan.

SATSS Complete Map Set: 02/06/09 (for 11 x 17 inch printing)
DELIVERABLES: MLTPA put together the initial data set for SATSS, including the field collection of more than 30 miles of GPS data documenting use trails, streams, roads, fence lines, and drainages. Check out the documents and maps, below, that MLTPA put together as first steps in the SATSS process.

Download a document that details the initial data inventory that MLTPA put together for use by the consultants and agencies working on SATSS.

Download public comment from the CAMP process on issues relevant to the SATSS study area.

Download and review a collection of MLTPA GIC points relevant to the SATSS study area.

MAPS: Download and review the initial data-collection map prepared by MLTPA along with the data inventory, including the defined boundary of the SATSS study area.

PHOTOS: Here is a photo gallery documenting some of the first steps of the SATSS process, including fieldwork and office sessions with MLTPA, USFS staff, TOML staff, and Chris Bernhardt of Alta Planning + Design.

PRESS: Read the official Town of Mammoth Lakes press release announcing SATSS.