Home >
Town of Mammoth Lakes - Community Hosts
Town of Mammoth Lakes - Community Hosts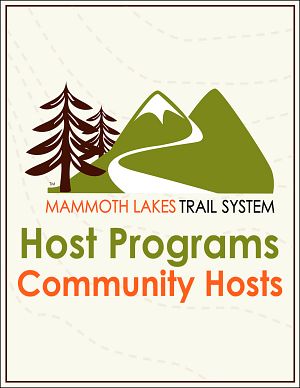 Project Description: The Town of Mammoth Lakes "Community Host" program grew out of the need for on-the-ground educational interactions with guests and residents for the winter of 2020 – 2021. The value of hosts was proven with the Mammoth Lakes Trail System "Trail Host" program during the summer of 2020, and based on that success, the Town Council approved funding for a "Community Host" program in October of 2020. Community Hosts will increase the number of host interactions with the public in community-centered spaces such as the town trolleys, the North Village, and shopping areas. These educational interactions will help mitigate winter and snow issues here in Mammoth Lakes for new visitors and even repeat visitors who may not be aware of winter operational changes in the Town and at Mammoth Resorts. With an everchanging environment, Community Hosts will provide guests with up-to-date information about town activities and always seeking to "help residents and visitors have fun safely." If you'd like to be a Community Host, please send an email to hr@mltpa.org.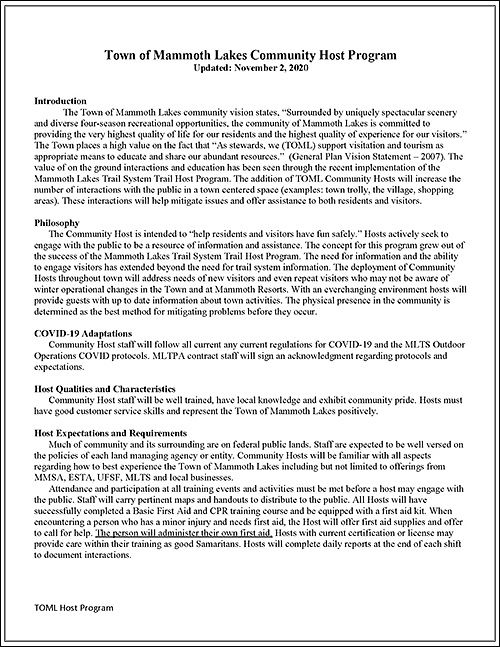 Click above to review the Community Host program proposal submitted to the Town. This document outlines the philosophy of the program, expectations of staff, and a estimated budget for the winter 2020/2021 season.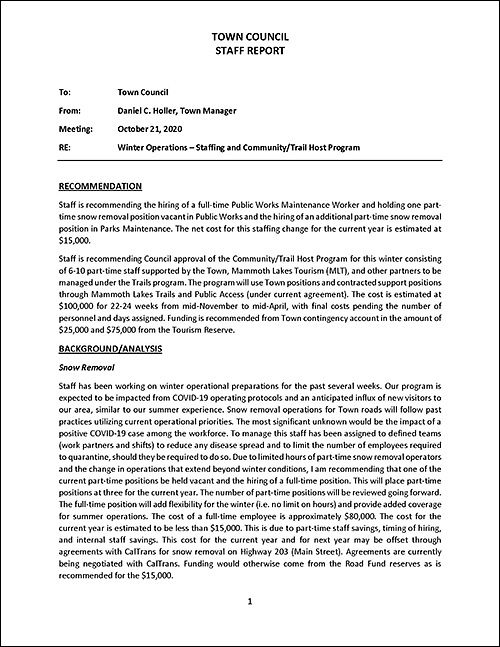 This report outlines the recommendation from Town Staff to the Mammoth Lakes Town Council for the new Community Host program. Click above for the full report.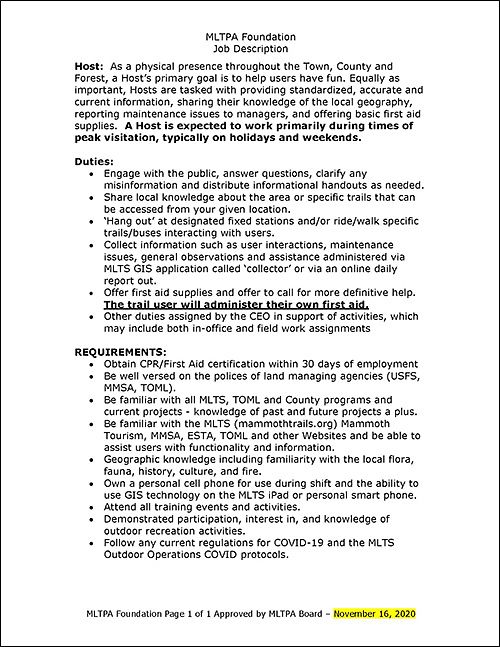 Community Hosts are employed by MLTPA - we provide a variety of contractual services for the Mammoth Lakes Trail System and the Town. Click above to check out the job description, and please contact hr@mltpa.org if you are interested in joining the team.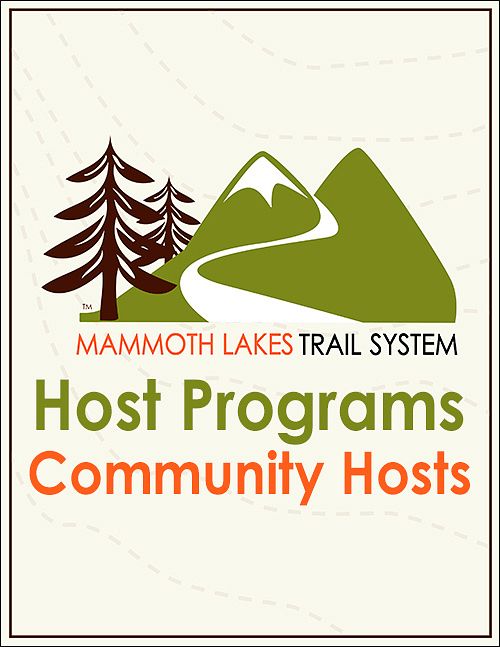 Town of Mammoth Lakes - Community Hosts Photo Gallery
To provide a sense of the great work that Community Hosts provide, we will be hosting a Photo Gallery of Community Hosts in Action - Coming Soon!
Last Updated December 22, 2020