Home >
MLTS Adopt-A-Trail
Mammoth Lakes Trail System Adopt A Trail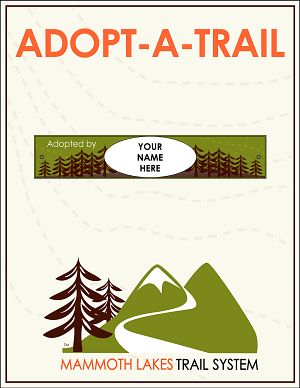 Project Description: The Adopt A Trail program was originally recommended in the Town of Mammoth Lakes Trail System Master plan. Initiated in fall of 2019, the program ensures our local trails, lakes and trailheads remain well-kept, safe and enjoyable. The program provides opportunities to support trail facilities through financial sponsorship and/or volunteer stewardship. Adoptee support will help keep local trails, trailheads and lakes safe, fun, and well-maintained for years to come! Groups, organizations or individuals wishing to adopt a facility can sign up at www.esadoptatrail.org. Sponsorship adoptee donations will support trail maintenance efforts and the administrative costs associated with the program. Volunteer adoptees will perform light maintenance and litter pick up. It is hoped that each facility will be sponsored financially and be maintained by volunteers to maximize engagement, stewardship and sustainability.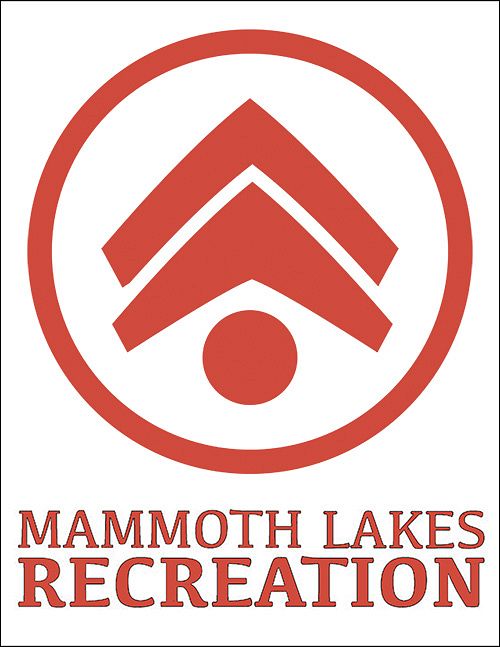 Mammoth Lakes Recreation coordinates the Eastern Sierra Adopt-A-Trail Program with the Town of Mammoth Lakes, Mono County, and the Inyo and Humboldt Toiyabe National Forests. Click above to find out more about adopting a trail, a lake or even a park in Mammoth Lakes and Mono County.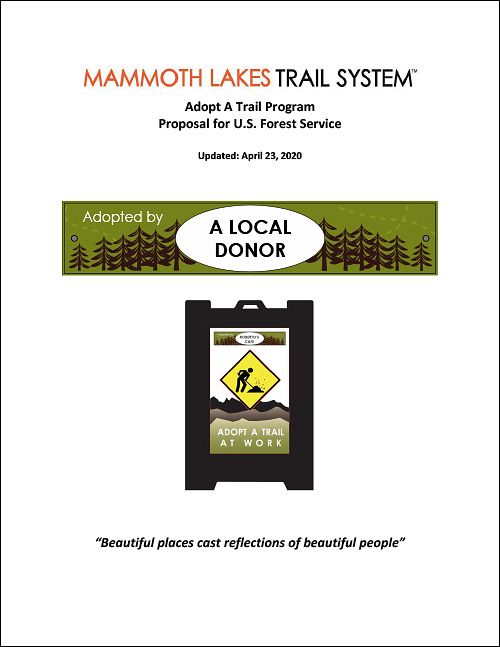 The MLTS and the USFS worked together to establish an Adopt A Trail program. Click above to review the proposal outlining the partnership and goals for the program. This proposal was accepted in the Fall of 2019, launching the Adopt A Trail Pilot Program.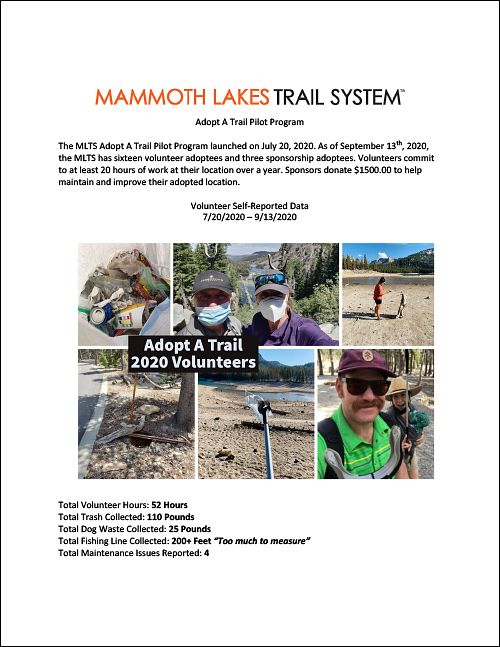 This report documents data collected during the summer of 2020 Pilot Program. Volunteers repot on hours worked, trash collected and unique things they found. Click above for the full report.
Last Updated - January 30, 2023