Welcome to the Visitor Audience Library
From State Offices of Outdoor Recreation to inspirational efforts from other Gateway Communities nationwide, this page was available for Visitor Connection Working Group members to refer to throughout their process as they developed the "Visitor Connection Package." Please note these are external links to pages that we do not control, and please excuse any links to pages that are no longer working.
State Offices
Offices of Outdoor Recreation
State Offices of Outdoor Recreation

Colorado
Maine
Michigan
Montana
Nevada
New Mexico​
North Carolina
Oregon
Utah
Vermont
Virginia
Washington
Wyoming
Equity and Inclusion
Federal Agencies

​BLM
National Park Service
Urban Wildlife Conservation Program
US Forest Service
USDA Rural Development

Mountain Biking
National Forest Foundation
Night Skies
Promotion and Stewardship
States

Colorado
New Mexico

Organ Mountains National Monument Toolkit

Pennsylvania
Tribes
The SRTI team did a significant amount of research in developing the Eastern Sierra Scenic Byway Analysis Project. Click the links below to view the GIS map of locations (includes photos) and the spreadsheet with a summary of all signage locations.
Last Updated: January 31, 2022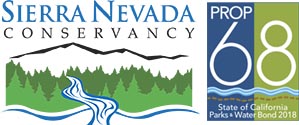 Funding for this project has been provided by the Sierra Nevada Conservancy, an agency of the State of California, under the California Drought, Water, Parks, Climate, Coastal Protection, and Outdoor Access For All Act of 2018 (Proposition 68) and in support of the Sierra Nevada Watershed Improvement Program.