Home >
Trail Workshop 2017
Trail Workshop 2017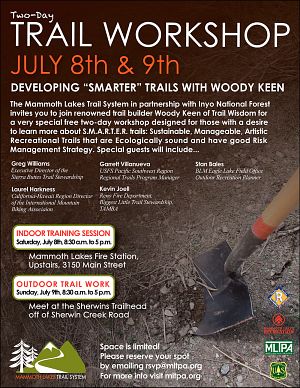 Developing S.M.A.R.T.E.R. Trails Two-Day Workshop
Space is limited and reservations are required so be sure to reserve your spot by sending an email to rsvp@mltpa.org !
Project Description: On July 8th and 9th, the Mammoth Lakes Trail System will host a very special free two-day trail workshop led by renowned trail builder Woody Keen along with a number of special guests. The workshop is designed to educate those interested in better understanding SMARTER trails: Sustainable, Manageable, Artistic Recreational Trails that are Ecologically sound and have good Risk Management Strategy.
Workshop Day 1 will be held upstairs at the Mammoth Lakes Fire Station at 3150 Main Street. This indoor training session will begin with presentations on trail planning, design and development with topics including: What is a trail?; Understanding the four areas of trail sustainability: Physical, ecological, managerial, and social sustainability; Understanding different user needs; Developing trail specifications, specific trail design tips and tricks, predicting user impacts; and tools for producing steeper and more technically challenging trails. The afternoon sessions will be focused on general and advanced trail maintenance.
Workshop Day 2 will begin at 8:30 a.m. at the Sherwins Trailhead off of Sherwin Creek Road. This session will consist of field-based, hands-on training ranging from field trail design, to new trail construction and trail maintenance. For this workshop, please dress for trail work (close-toed shoes, long pants and gloves) and bring a sack lunch with plenty of hydration.

Special workshop guests will include:
Greg Williams, Executive Director of the Sierra Buttes Trail Stewardship;
Laurel Harkness, California-Hawaii Region Director of the International Mountain Bicycling Association;
Stan Bales, BLM Eagle Lake Field Office Outdoor Recreation Planner;
Garrett Villanueva, USFS Pacific Southwest Region Regional Trails Program Manager.
Kevin Joell, Sierra Trail Works, Biggest Little Trail Stewardship & TAMBA.
When: Saturday, July 8th - 8:30 a.m. to 5 p.m. - Sunday, July 9th - 8:30 a.m. to 5 p.m. NOTE: On Sunday please arrive prepared for summer trail work: sturdy, close-toed shoes, hat, long pants, gloves, eye protection, suncreen, sustinance and plenty of hydration.
Where: Saturday Indoor Workshop - Mammoth Lakes Fire Station, 3150 Main Street, Mammoth Lakes, CA - Sunday Outdoor Work Day - Meet at the Sherwins Trailhead on Sherwin Creek Road next to the propane tanks at 8:30 a.m.
What: Two-Day Developing "SMARTER" Trails Workshop
Who: For all trail enthusiasts interested in cultivating a better understanding of sustainable trail development techniques.
All trail users are encouraged to join in for this summer's unique opportunities to advance sustainable recreation and to improve our community's knowledge of the essential concepts of SMARTER trail development for the future enhancement of the Mammoth Lakes Trail System!
DOWNLOAD THE WORKSHOP PROGRAM!
Click here to access the photo gallery!
EVENT STATISTICS
41 people attended Classroom session
35 people attended Field session
1/4 mile new trail built
Additional 1/4 mile new trail designed and flagged
Representation/partnership from private, public and NGO sector
Thanks to MLTPA, MLT, Measure R, MLR, Mammoth Lakes Fire, Mammoth Lakes Library for sponsorships/donations!