Home >
Planning >
Strategic Conference and Public Meeting 2006
Strategic Conference and Public Meeting - 2006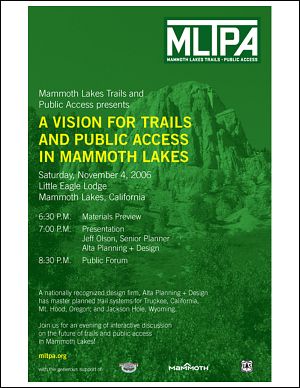 Project Description: In the fall of 2006, MLTPA determined that the time was ripe for an engaged discussion and a visioning process for trails and public-access issues in the community of Mammoth Lakes. With support from the Town of Mammoth Lakes and Mammoth Mountain Ski Area, MLTPA (then an army of two!) convened a two-day strategic conference with more than 20 community leaders charged with taking the first steps toward the organization of MLTPA as an incorporated non-profit. The result of this effort was the MLTPA Action Plan. Over the same weekend, MLTPA also hosted "A Vision for Trails and Public Access in Mammoth Lakes," featuring a presentation by Jeff Olson of Alta Planning + Design. The public meeting drew a standing-room-only crowd of well over 300 people -- close to five percent of the town's population.
Project Update: Within months, with the help of members of the Town Council and others in the community, MLTPA was incorporated as a 501(c)3 public-benefit corporation and held its first board meeting in early 2007. In the years since, the organization has expanded its role as a voice for the trails-based recreation community, spearheading and funding numerous projects and bringing together members of the public with municipal and federal land managers, political leaders and each other, to seek improved amenities for all. The success of the Strategic Conference and Public Meeting inspired the seasonal ("Summer" and "Winter") publicly informed update to the Town's Trail System Master Plan, the first comprehensive revision to the Town's trail plan in almost two decades.
DELIVERABLES:
Read the MLTPA Action Plan, the ultimate deliverable of the Strategic Conference.
Review slides from the PowerPoint presentation presented by Jeff Olson of Alta Planning + Design at the Public Meeting.
GRAPHICS: View the poster and the postcard used to promote both the Public Meeting and the Strategic Conference.
MAPS: Check out the MLTPA Sphere Map, detailing all of the sub-regions in the Mammoth Lakes area and all of the outdoor recreation activities that happen out there.
PHOTOS: We've put together two photo galleries from the Strategic Conference and Public Meeting:
The first gallery features a selection of images from the event itself.
The second gallery features a selection of panoramic images that illustrate the various sub-regions in Mammoth Lakes and the activities that take place there.
PRESS: Read press about MLTPA and the Public Meeting and Strategic Conference, including a cover story in the Mammoth Times:
Mammoth Times, 09/14/06
The Sheet,_11/11/06
REPORTS: Here are two MLTPA reports from the Strategic Conference:
The first contains excerpts from the packet distributed to the Strategic Conference participants.
The second is one of MLTPA's early reports, an effort with the Tourism & Recreation Commission taking the first steps in the establishment of Mammoth Trails.
Updated December 27, 2013