MLTPA Trails Planning Proposal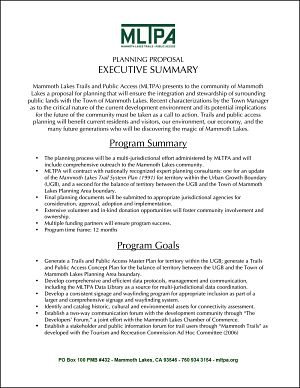 Project Description: MLTPA's first project after formally incorporating was to initiate the process of updating the Town of Mammoth Lakes Trail System Master Plan, which dated from 1991 and was never fully implemented. MLTPA convened a Trails and Public Access Master Planning Task Force with representatives from the Tourism and Recreation Commission, Town staff, the USFS, and Mammoth Mountain Ski Area (MMSA). From that effort, MLTPA developed a "Proposal to the Community" for trails master planning in Mammoth Lakes, complete with an executive summary, deliverables schedule, and budget. Working with the Town (both councilmembers and staff) and senior representatives of MMSA, MLTPA was able to secure $200,000 in financing for the planning effort by arranging for matching $100,000 commitments from each of those parties. With an additional $25,000 commitment secured from Cardinal Investments through the Developers' Forum, the Concept and Master Planning (CAMP) trails planning effort got underway.
DELIVERABLES
Here are the essential components of the Planning Proposal:
GRAPHICS
Check out this Vanity Fair article of Starwood and Mammoth Mountain Ski Area owner Barry Sternlicht.
REPORTS
Review the Mammoth Lakes Town Council Budget Policy Decision that identified the options before Town Council as they made their decision to commit to the trails-planning effort.
And here's MMSA's letter of commitment for $100,000.
Two letters from Town Manager Rob Clark reinforced the need for trails planning given a chaotic development environment at the height of a real estate boom:
Trails and Public Access Master Planning Task Force
MAPS
Here is a packet of maps that MLTPA put together for the Task Force.
Last updated October 3, 2023