Trail System Master Plan – 2011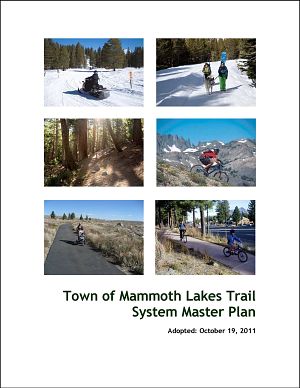 Project Description: Welcome to MLTPA's download page for the Town of Mammoth Lakes Trail System Master Plan (TSMP) which was adopted by the Town of Mammoth Lakes in 2011. The TSMP updated the Town's 1991 Trails Plan and is the result of the Concept and Master Planning, or CAMP, process initiated by MLTPA in 2007. The adopted final draft of the TSMP includes input from close to a thousand public comments from more than 60 individual respondents to drafts of the final plan, circulated for public comment in the late summer of 2008. For more information on CAMP, including the CAMP: SUMMER and CAMP: WINTER public meetings, the Planning Proposal that initiated the trails planning process, and MLTPA's SNC grant funding in support of the CAMP process, download and review the documents and links on this page.
Project Update: The Trail System Master Plan (TSMP) was adopted by the Mammoth Lakes Town Council on October 19, 2011 along with the certification of its EIR. The links below allow you to download the final draft of the plan as either one large file or as individual components. There are also links to download important supplemental attachments and appendices and to visit other MLTPA web pages with more information on the trails planning effort. Note that because the maps associated with the plan are formatted for printing at 11 x 17 inches, you may want to download them separately. We have provided links for that purpose.